The Centers for Medicare and Medicaid Services (CMS) announced the final list of 32 health care provider organizations that are to participate in the "Pioneer ACO" program during 2012.
The Pioneer ACO program was intended to allow provider organizations that had experience and sophisticated population management and care coordination capabilities to get started under a gain-sharing arrangement for Medicare more quickly than the Medicare Shared Savings Program (MSSP). Compared to the MSSP participants, these Pioneer ACOs will take on greater risk and will be eligible to receive higher gain-sharing payments. They will then have an opportunity to move more rapidly from a gain-sharing to a population-based full-risk capitation payment model in year three, as long as they successfully earned shared savings awards during the first two years. They will then be allowed to continue through an optional fourth and fifth year. The Pioneer ACOs all commit to negotiating "outcomes-based" reimbursement arrangements with other payers by the end of the second year.
Of the 32 Pioneer ACOs, more than one third are physician organizations, with the remainder being integrated delivery systems or other structures that include both hospital facilities and physicians.
The majority of the Pioneer ACOs are concentrated in 5 states, with California predictably leading the pack with 6 Pioneers, followed by Maine, Michigan, Minnesota and Texas.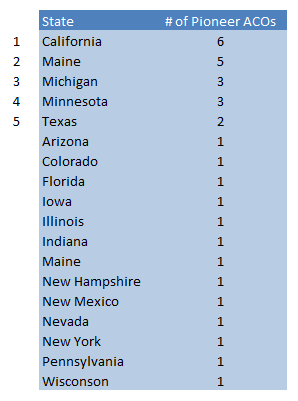 The three Michigan-based ACOs include:
Genesys PHO: a collaboration between Genesys Health System and 160 primary care physicians with 400 participating specialist physicians who deliver health care services in Genesee, Lapeer, Shiawassee, Tuscola and northern Oakland counties.
Michigan Pioneer ACO: To be managed by the Detroit Medical Center PHO, a partnership of The Detroit Medical Center and its 1100 physicians, who include employed and faculty physicians, but consisting mostly of private practice primary care physicians. The Detroit Medical Center is a large academically integrated system in metropolitan Detroit, owned by Vanguard Health Systems and serving as a teaching and research site for the Wayne State University School of Medicine.
The University of Michigan Health System, which includes the U-M Faculty Group Practice, part of the U-M Medical School, includes all of the nearly 1,600 U-M faculty physicians who care for patients at the three U-M hospitals and 40 U-M health centers. Although U of M's ACO was categorized by CMS as an "integrated delivery system," the Pioneer ACO will also include participation by IHA Health Services Corporation, an Ann Arbor-based group practice that is part of Trinity Healthcare with 175 physicians in 32 practices.
The full list of Pioneer ACOs follows:
CMS released a fact sheet with more details about the Pioneer ACO program.