A baseline evaluation of "Pap" smears done in a large multi-specialty group practice revealed that over 25% of samples were designated "less than optimal" because of the absence of observed endocervical cells, an indicator of sample adequacy. In addition, there was a large variation in the rates of sample adequacy achieved by different physicians and at different clinic sites.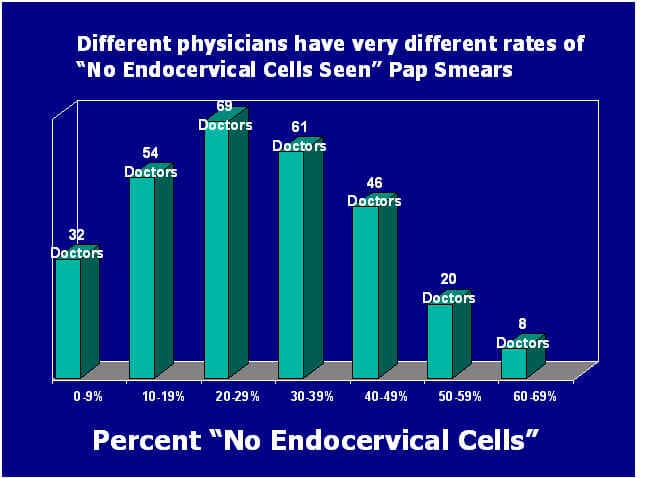 In response to these concerns about sample adequacy, clinical leaders encouraged the formation of a multidisciplinary clinical quality improvement team to work to improve the process by which cervical cytology samples were obtained and assessed for adequacy. This team included cytopathology staff, obstetrician-gynecologists, internists and clinical effectiveness staff.
The team used a quality improvement framework developed at Hospital Corporation of America (HCA), described by the acronym "FOCUS-PDCA." The team prepared process flow charts and identified an initial improvement in the design of the cytology requisition form to provide data required for future analyses of Pap smear adequacy and management of cervical neoplasia. The team also defined and implemented a new, more reproducible operational definition of the key quality characteristic: the proportion of samples with at least five observed endocervical cells. Although no direct relationship between observed endocervical cells and decreased cervical cancer mortality has been demonstrated, the team conducted a retrospective analysis which showed an increased prevalence of abnormalities found in samples with endocervical cells (14.9% vs. 6.3%), and for mild abnormalities (11.9% vs. 5.2%), and also an increased prevalence of severe abnormalities found (3.0% vs 0.8%).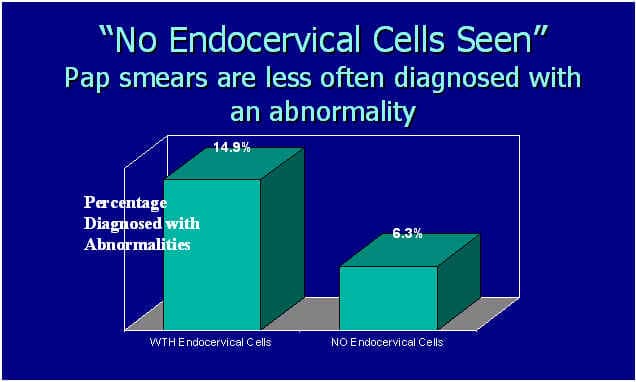 The team then prepared "run charts," plotting monthly sample adequacy rates over a two-year period, stratified by clinic location and specialty. Then, based on a literature review and input form consultants, an "Ishikawa diagram" was prepared, outlining the known factors that could cause inadequate samples. A study conducted in the Netherlands found that the cytobrush, a plastic sampling tool with a tip which resembles a pipe cleaner, together with a wooden spatula, produced a higher proportion of samples with endocervical cells in the hands of paramedical sample takers when compared to other commonly used tools, including the cotton swab traditionally used within the institution. The team conducted a retrospective study and a second prospective study which confirmed these findings.
Based on these results, the team prepared a cost-benefit analysis, and drafted a proposal for an intitutional clinical practice policy calling for sampling using the cytobrush and wooden spatula for screening Pap smears for non-pregnant women. The policy was approved, and was communicated to the primary care medical staff through a series of scripted 13-minute slide presentations presented at local staff meetings at clinic sites throughout the institution.
Two approaches were used to assess the success of these staff training efforts. First, the team conducted a survey of clinic nurses and assistants to determine which sampling tools each internist and obstetrician-gynecologist used during each month of the study period. The survey was repeated to update information on two occasions. These surveys revealed a dramatic transition from traditional sampling methods using a spatula, with or without a cotton swab, to methods using the cytobrush. Second, the team confirmed this survey data by tracking orders for cytobrushes through the purchasing department, revealing that the overall volume of cytobrushes being ordered was consistent with the volume implied by merging survey data with physician-specific Pap smear volume data.
To assess the impact of changes in methods of sampling, the team used a "run chart" to track the proportion of inadequate Pap smears each month. The run chart shows that the proportion of inadequate smears plunged from baseline levels of 20-25% per month to less than 10%. Possibly due to a decrease in the number of repeat Pap smears needed, the overall volume of Pap smears dropped by more than 10%. Consequently, the number of women who received a Pap smear report with the "less than optimal"designation was cut by well over 50%.
The estimated economic impact of these changes was favorable. On an annual basis, the additional costs from using a more expensive sampling tool was $15,000. The cost of additional physician sampling time for a "two tool" method added $11,000. The cost of added physician cytopathologist interpretation due to discovering an additional 1068 abnormalities added $20,000. However, these costs were far outweighed by a savings of $158,000 from fewer repeat visits and fewer repeat Pap interpretations, leading to a net savings of $212,000 per year.