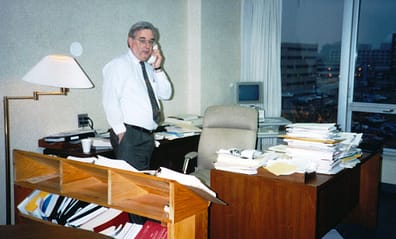 This morning, I read the results from a clinical trial of ovarian cancer screening in JAMA. The trial showed that ovarian cancer screening was not effective in saving lives. I was interested in the article because I was one of the investigators in that trial, which began in the early 1990s. Henry Ford Health System was the largest of many recruitment sites for the Prostate, Lung, Colorectal and Ovarian (PLCO) trial, one of the largest clinical trials ever done. I'm not surprised by the ovarian cancer results, since our models long ago suggested it was unlikely to work. But, it is amazing to me how long it takes to figure out whether something works in health care, particularly for interventions that are preventive services or that attempt to change the delivery system. It is unfortunate that the "learning loop" — from innovation to implementation to evaluation and back to innovation — is often far longer than our collective attention span.
But, the back story of how Henry Ford got involved in the PLCO trial is the most interesting aspect of the PLCO story for me. It is the story that best illustrates why Wil Rutt, MD is one of my health care heroes. When I was fresh out of University of Chicago medical school in 1990, I moved to Detroit to work with Dr. Rutt, who had recently founded the Center for Clinical Effectiveness (CCE) at the Henry Ford Health System.
In other industries — particularly product manufacturing industries — it is typical for companies to invest in internal capacity for research and development (R&D). Universities and governments do basic research, figuring out how nature works. But, it is companies that do R&D to apply basic knowledge to the development of successful products. They generate ideas for product innovations. Then they use rigorous methods of scientific research and engineering to figure out whether those innovations are successful and to develop ways of manufacturing the product. Separate from such R&D efforts, manufacturers also have engineers in the product manufacturing area that try to improve manufacturing processes. To do so, these engineers use methods variously described as statistical process control, continuous quality improvement, total quality management, six sigma, and lean. Drug and biomedical device companies are product manufacturers, and share this tradition of investing in both R&D and manufacturing process improvement.
In the field of health care delivery, there has been great progress over that last few decades in adapting the process improvement methods from manufacturing for use in health care. Drs. Don Berwick, Paul Batalden, Brent James, and Jack Billi come to mind as zealous advocates for this advancement. And, certainly there have also been plenty of health services researchers, mostly in universities and government-sponsored think tanks, who have done research on health care delivery organizations, studying such organizations as anthropologists might study gorillas in the mist.
But, as of 1990, there was little or no precedent for non-academic health care provider organizations to do R&D, the kind of practical work applying rigorous scientific and engineering methodologies to improving the design of a company's own product or service. Wil Rutt's CCE was one of the first attempts to apply R&D to health care delivery. He assembled a team of doctors, PhDs, IT professionals and others to design better ways for Henry Ford Health System to deliver health care. The CCE did extra-murally funded research intended to be generalizable to the world. But the focus was on R&D for Henry Ford, and the grants and papers were merely a means to that end.
One of Dr. Rutt's many innovation concepts during the early 1990s was the idea to design a care process that resembled the Jiffy Lube oil-change process to deliver clinical preventive services. At that time, there were upwards of 50 different preventive services recommended in the U.S. Preventive Services Task Force guidelines. Dr. Rutt's CCE developed pocket-size guideline manuals, age and gender-specific flow sheets, and preventive services quality feedback in an effort to promote adherence to preventive services guidelines by primary care physicians. But, he concluded that it would be better to cross train non-physician staff to efficiently deliver a whole set of preventive services to patients during a single ambulatory encounter. He wanted these services to be delivered in a convenient setting such as a shopping mall rather than on a clinical campus. He called these "Health Assessment Labs" or "HALs." However, Dr. Rutt needed funding to implement and rigorously evaluate the HAL concept. Along came the National Institutes of Health (NIH), who was sponsoring the PLCO trail. Dr. Rutt saw the opportunity for Henry Ford to be a clinical site for the PLCO. We won a grant to do so, and became the largest of the many PLCO clinical sites. That grant was one of the largest research grants ever received by Henry Ford Health System, which is no slouch in clinical and basic science research. But, Dr. Rutt's thrill was not the research fame. It was the opportunity to do R&D on the HAL concept.
Two decades later, we are still, as a field, at the infancy of our journey to adapt the R&D concept to health care delivery. Certain delivery systems, such as Kaiser Permanente, Mayo Clinic, Cleveland Clinic, and Novant have discussed an R&D-like concept of developing proprietary science, technology and methods for care delivery. But, the R&D concept has not really taken hold. Health care provider organizations do not yet consider R&D to be a core competency. Hardly any provider organizations have an internal department dedicated to R&D. They don't yet see R&D as a necessary investment required to maintain organizational competitiveness. I feel strongly that we need to finish making that advancement. And when we do, we'll owe a debt of gratitude to Dr. Rutt for being the pioneer.