My father recently forwarded an e-mail he received from a friend with a link to a TV news story about a physician who treated her own husband's worsening Alzheimer's disease with coconut oil. My father is interested in the topic, particularly since he knows someone who suffered and died from the disease. He forwarded the e-mail to me, asking my opinion.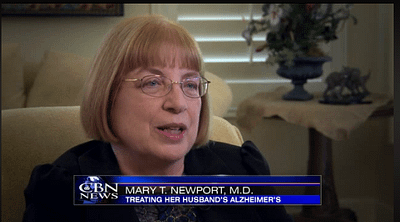 The physician, Mary Newport, MD, is a neonatologist. She explains that Alzheimer's is thought to be similar to diabetes in that it involves an impairment in the ability of brain cells to respond to insulin and take in the glucose needed to provide energy. As a result, brain cells die and eventually brain function is reduced. She reasoned that the brain cells may avoid death by relying on an alternative fuel, ketones. She identified coconut oil as a good dietary source of ketones. So, she introduced coconut oil into her husband's diet and noted improvement in his brain function. She documented this improvement with a "clock test," showing how a hand drawing of the face of a clock done after initiation of coconut oil treatment was more coherent and detailed that a drawing done before the treatment. Excited by the promising results, she wrote a book, started a web-site, and started doing radio and TV interviews to disseminate information about her new treatment.
From the simple explanation, it seems biologically plausible. And, I'm sure that Dr. Newport had nothing but the best intentions, motivated by love for her husband and a desire to help millions of people suffering from Alzheimer's. And, it is possible that she is absolutely right. Coconut oil may be a simple, inexpensive, non-invasive, effective treatment for the disease.
But, obviously, we would not want to make decisions about treatments from a single data point, where the main outcomes measurement was a subjective assessment about how coherent a hand drawing of a clock was.
It would have been more appropriate for this physician to actually do the work of scientific research before disseminating results. That would start with writing a study proposal, convincing peers in a study committee for a research granting agency that it was a plausible and promising idea. Then, she would conduct a randomized study, making objective measurements or collecting careful observations by impartial observers. Then, she would analyze the results to see if there is a statistically significant difference in the outcomes between the treatment group and the control group. The purpose of the statistical significance test is to assure that there is a low probability that any observed differences are just due to chance. Finally, she would do the work of writing up a paper and submitting it to a peer reviewed journal to convince expert reviewers that there were no obvious flaws in the methodology. Only then should she consider further dissemination of the information, such as by writing a book, starting her own web site, and doing TV and radio interviews.
The scientific approach to medical innovation has served us well as a society. When this physician went straight from one observation to TV interviews, she short-cut the scientific approach. She may be helping people with Alzheimer's. But, she may potentially be distracting Alzheimer's patients from seeking proven treatments or diverting funding away from competing innovative treatment ideas that have gone through the scientific "front door." More generally, she may be harming our society's commitment to a scientific approach.
The fact that the treatment is a type of food, rather than a patentable drug, admittedly changes the situation. No drug company wants to fund research on coconut oil. And, the coconut oil industry is not familiar with clinical research, even if they could benefit from increased demand for treatment of Alzheimer's. This is a good argument for why the National Institutes of Health and private research foundations should fund more research related to diet and natural remedies. It should not be an argument for short-circuiting the scientific approach to health care innovation.
Fortunately, a research team from Oxford is pursuing a randomized clinical trial to test the use of dietary ketones as a treatment for Alzheimer's. The Oxford team is testing a specialized ketone ester that is thought to be ten times better than coconut oil in terms of delivering ketones to the interior of brain cells. Results should be available later this year. Hopefully, they will show meaningful improvement.